Wrap Dress Styles for My Body: Sizing and Fit Guide
Who Looks Good in a Wrap Dress?
We all go through the motions of having an occasion to attend and rifling through our closets to find the perfect outfit. When frustration meets doubt, panic can quickly ensue! Luckily, a woman can't go wrong with a wrap dress. We know you may be thinking, would I even look good in a wrap dress? The answer is yes because it's a garment staple for every body type: whether you're a rectangle or pear shape, the wrap dress creates balance for all of us. The cinched waist accentuates your curves and draws the eye to the most flattering parts of your silhouette. 
Who Invented the Wrap Dress?
While popularized by Diane Von Furstenburg in the 70s as a powerful, yet versatile work outfit, the origins of the wrap dress dates back to the 8th century in Japan in the form of the kimono. However it was the Chinese Shang Dynasty between 1600 and 1046 BC who reinvented the kimono to close on the right side of the body. By the mid 15th century, the Silk Road unlocked an economic highway of gold, spices, musical instruments, fashion and high grade fabrics. The bridge between civilizations brought the wrap dress to the finest tastes of Europe and the Americas. 
How Did World War II Shape the Wrap Dress?
As civilization crept into the 20th century, the popover dress emerged as a utility garment by designer Claire McCardell. Pocketless and made in denim, the crossover neckline remained a key feature of the popular garment. Inspired by its origins in Asia, the popover dress was crafted for smart, productive women powering the war effort. Days after the bombing of Pearl Harbor in 1941, President Franklin D Roosevelt issued Regulation L-85 under the War Production Board, which restricted women's apparel. The decree argued that the war effort required precious textiles such as wool and nylon. "The order specified the amount of fabric that could be used to create a garment and listed the measurements for feminine apparel items. For example, hems and belts could not exceed two inches in width, garments could not have more than one pocket, and ornamental sleeves, hoods, and scarves were banned." Thus World War II informed, and continues to influence the modern day wrap dress. However, as previously mentioned it was the iconic Diane Von Furstenberg that gave way to the form fitting silhouette in 1974 as a work wardrobe staple.
Wrap Dress Styles
Thanks to Google Shopping and e-commerce, various wrap dress styles are now just one click away from your wardrobe. That can be a good and bad thing, with most of us stuck in analysis paralysis. Consider these wrap dress styles to help narrow down your choices:
Midi Wrap Dress: You can spot a midi dress by the length of its hem. The midi dress falls below the knee and above the ankle. It's the more appropriate wrap dress style for the office especially when paired with a modest kitten heel. In our opinion, the midi wrap dress is the most versatile style that allows you to transition easily between several settings. The midi length allows you to start your day at the office, head to happy hour and close the night with a dinner date. 
The Faux Wrap Dress: Not surprisingly, the faux wrap features the v-neckline but the dress is already fastened. With this style, you slip the dress over your head. The benefit of having at least one faux wrap dress in your closet is that it's a quick and versatile style, especially if you have a hand or wrist injury that makes tying a knot painful. You can still rock the cinched waist line and experience the flattering fit. Consider this wrap dress style as a fashionable and utility choice. 
The Maxi Wrap Dress: A perfect resort option for when you're feeling easy breezy, the maxi wrap dress style kisses your ankles. If you gravitate to this style, lightweight fabrics like chiffon and silk have great movement outdoors. The flirty flow of the fabric can breathe life into the tropical environment and enhance your pictures, not to mention keep you cool! Pack this wrap dress style at your next beach wedding or girls trip.
Finding the Right Wrap Dress Fit
Knowledge is power. Understanding your body type is a critical piece of knowledge in building your closet full of flattering silhouettes and endless options. Do you know your body type? Follow this guide.

Apple Shape
If your waist is slightly larger than your hips and shoulders then you have an apple shape body type. Celebrities with an apple body shape include Jennifer Hudson and Tyra Banks.
Can an apple shape wear a wrap dress? A wrap dress is a great option for apple body types because the draw string creates a more defined waistline. The v-neckline also elongates the top half of the body making the shoulder appear more narrow.

Pear Shape
Do you have a small bust, narrow shoulders and wide hips? You could be a pear shape body type. If you're this body type, the hips are clearly the widest part of your body. Examples of celebrities with a pear shape body type include Beyonce and Jennifer Lopez.
Can a pear shape wear a wrap dress? Certainly! The cinched waistline can highlight your hips even more and hone in that goddess energy.

Hourglass Shape 
How do you know if you have an hourglass shape? Your waist is smaller than your bust and hips. Contrary to popular belief, hourglass shapes are not always dramatically curvaceous - the deciding factor is your body's measurements. Celebrity examples include Marilyn Monroe and Kim Kardashian.
Can an hourglass shape wear a wrap dress? A wrap dress is an excellent option for this body type due to the fitted bust. If you prefer a more conservative fit, consider faux wrap dresses with a fastened bust. 

Rectangle Shape 
A key characteristic of this body shape is the fairly equal measurements between the bust, waist and hips. Given the key markers of the rectangle body shape,  the nickname is not surprising! If you need style inspiration, check out Natalie Portman and Kate Hudson as body shape peers.
Can a rectangle shape wear a wrap dress? It's helpful to find outfits that create a waistline, in which case a wrap dress could be your best friend. Depending on personal preference, you may find wrap dresses with a color contrast and/or wide waistband.

Inverted Triangle Shape 
Unlike the pear body shape, the inverted triangle body shape is characterized by wide shoulders and a large bust accompanied by a smaller waist and hips. Celebrity body doubles include Angelina Jolie and Zendaya.
Can an inverted triangle body shape wear a wrap dress? The full skirt of a wrap dress can create the illusion of wider hips and a balanced lower half. You may opt for a faux wrap dress if you're concerned about the fit on your bust. If you have this body type try to avoid cut off shoulders as well as ruffles on the shoulders and bust. Opt for styles that draw attention to your waist and hips.
If you're not sure where you fall, pull out your measuring tape and keep a record of your measurements. Watch this video for guidance:
Best Occasions for Wrap Dresses
Did you know that according to a University of Chicago and University of California study, grooming outweighs attractiveness in terms of higher income potential? The study confirms black women are disproportionately affected by the pay equity and grooming standard, spending on average 9 times the amount of time and money on hair care than their professional peers. The grooming gap is as pervasive as ever, with more women of color in school and the workforce than at any point in history. While there are several beauty and apparel solutions to close the grooming gap, including our silk hair accessories, don't overlook the wrap dress hanging in your closet.
Wear to Weddings: Feeling festive? Opt for a midi or maxi wrap dress to convert your outfit into a semi-formal look. You can accessorize with simple jewelry like pearls or tear drop earrings accompanied with a matching necklace and bracelet. Floral and pastel colors instantly brighten the room and accent the happy couple!
Wear to Work: The wrap dress is a timeless power piece for the hardworking professional. Remember to dress for the job (or business) you want, not the one you currently have. You can shop for neutral solids or power colors like red and blue. Check out our Solid Blue Wrap Dress for inspiration. 
Wear to Graduations: If you were instrumental in the new grad's success, then you should celebrate this milestone as if it were your own! Statement jewelry paired with bold patterns are absolutely welcome here. Take it a step further with matching nail polish and decorative hair pins.

Wear to Date Night: A wrap dress is the perfect flirty and fun companion to your date with someone special. To cement the romance in the air, choose a lightweight fabric like chiffon. You'll love the natural movement of the fabric in the breeze!

How do I Style a Wrap Dress?
The true gift of a wrap dress is its versatility - you can dress it up or down depending on the occasion. Before you start accessorizing, consider the formal or casual nature of the occasion. 
Remember!
For formal occasions a maxi wrap dress that kisses your ankles might be the more appropriate choice than a short or midi wrap dress. 

We recommend a midi wrap dress for the office. 

The neckline informs how you accessorize. The v-neckline of a wrap dress helps narrow down your options. Consider these accessories:

High Heel Strappy Sandals: Who doesn't love a kitten heel, especially for weddings and birthday celebrations? If you prefer a different footwear style for formal occasions, consider a strappy sandal with a wide heel. Just make sure it's comfortable!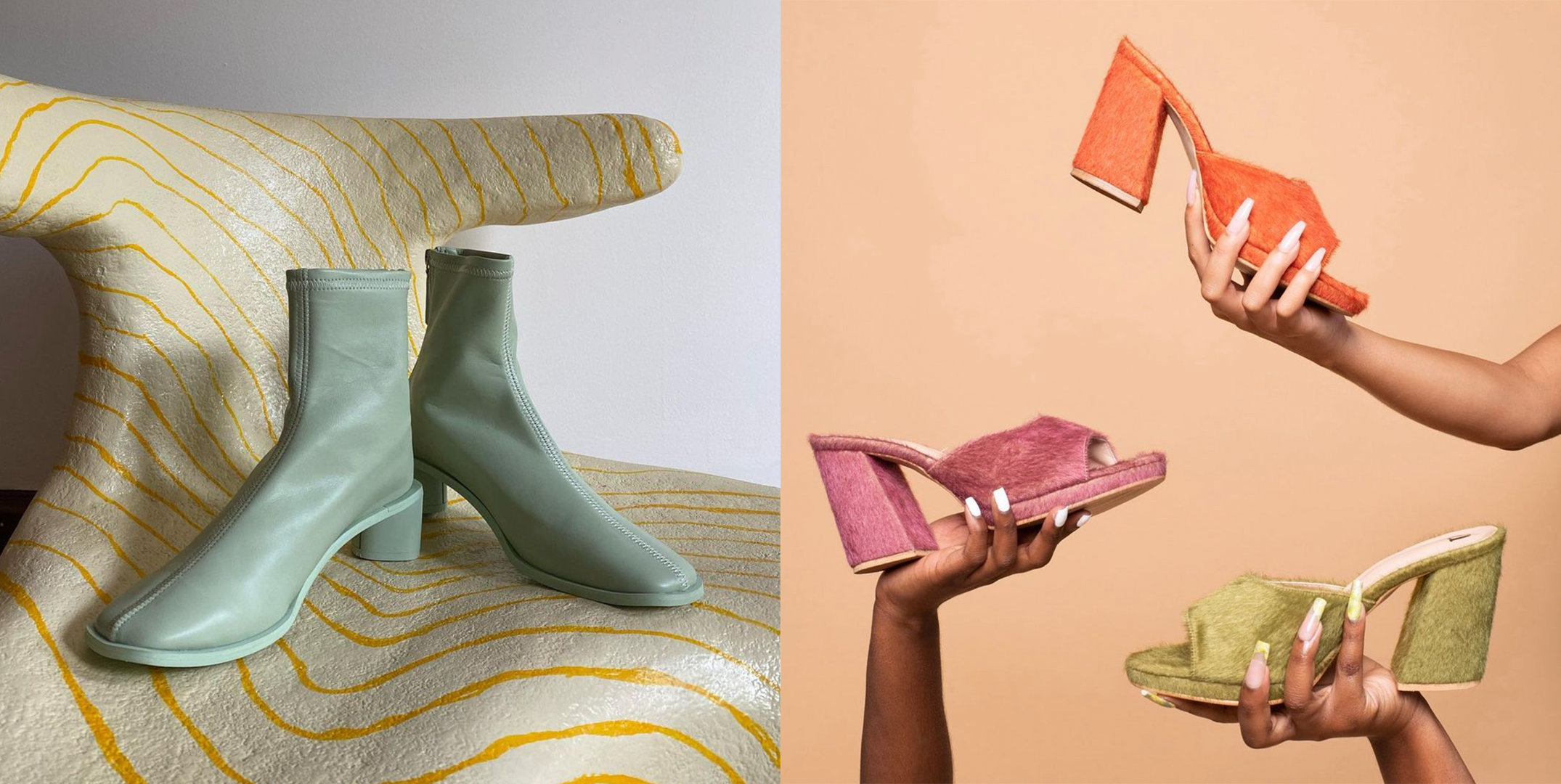 Sneakers: An immediate yes for Spring and Summer outfits, you can pair your favorite with kicks with your wrap dress. Keep it casual and comfy at your next sporting event or weekend brunch with your curlfriends. Don't forget a light jacket for those cooler summer nights.

Boots: While some of us dread the colder months, others welcome the arrival of Fall. Luckily your wrap dress can party with you in the Summer and cuddle with you in the Winter. Bundle up with a matching pair of high heel boots and a midi-length cardigan or work jacket. You can opt for high heel ankle boots or flat boots depending on your personal taste.

Gold Hoop or Teardrop Earrings: If you love a good pair of hoop earrings, a wrap dress is a perfect companion. Feel free to choose between dainty or chunky hoop styles depending on the occasion. If you decide to wear your hair in an updo with a smokey eye, gold jewelry is your best bet.

Pearls: The occasion may call for a classy and simple outfit, in which case it's a good idea to limit yourself to two accessories. Pearls or silver earrings with precious stones create that timeless glam look and draw attention to your dress.

Silk Scarf: Not in the mood for a necklace? Opt for a silk scarf instead. To elongate the scarf, fold the accessory length wise and tie a knot or bow around the neck. Experiment with your wrap dress to find the perfect style. Consider pairing with our silk neck scarves. 

African Beaded Choker Necklace: A great option for a solid wrap dress, pick your favorite African beaded necklace from your closet and you're ready to go! We recommend a graduated necklace rather than a maasai necklace. The idea is to create balance in your silhouette, so steer away from (fabulous) statement necklaces that cover your shoulders and upper body. 

Layered Necklace: Want to create depth and texture? Try a layered necklace or make your own by combining 2 - 3 pieces with tiered lengths. It's ideal to pair necklaces that match in color, however you can pull off different colors depending on the wrap dress print. 
How do you like to style your wrap dress? Drop us a line in the comments and share your favorite looks! Are you a part of our social community? Follow us at @shoprubysampson on all channels.
Subscribe to our mailing list
to unlock secret sales, early access to product launches, natural hair and styling tips.